Nottingham marketing consultancy DiVersity has brought Lawrence & Pierce, one of the region's longest established design agencies, into its stable of services. The new combination significantly enhances the creative marketing strength within the East Midlands.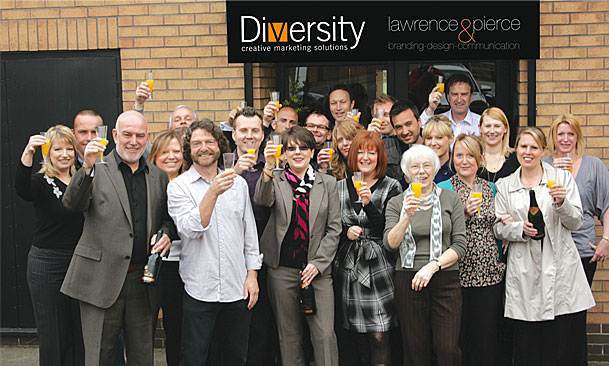 The deal follows the move of Lawrence & Pierce founder Martin Lord to DiVersity as Creative Director.  In February, DiVersity set up its Digital Division with the appointment of Jamie Warnock, former digital designer from Lawrence & Pierce, and the combined creative experience of Martin and Jamie has already resulted in significant project wins for the expanded DiVersity team of 28 staff.
DiVersity Managing Director Di Slaney said: "We've always really admired the creative ability of Lawrence & Pierce and thought that the partnering of Martin and his team with our own marketing and business consultancy would be the dream ticket for a powerful, full service agency offer.
"Both businesses have dealt with big commercial brands at a national and international level, along with work for many regional and local organisations. Together we have a fantastic integrated service to offer all our clients, along with back-office functions such as call centre response and CRM data management to support any forward-facing communication campaign.
"We look forward to getting to grips with project work for existing Lawrence & Pierce clients over the next few weeks, and offer our assurance of continuity of service at all levels.  We hope that it will be pretty much business as usual for everyone, but with the promise of extra resource and increased focus where needed.  Our expanded team has an added spring in its step at the prospect of meeting new clients and exploring new markets, and that energy has got to be good for everybody's business!"
Martin Lord comments: "The potential for a larger integrated regional agency is fantastic, and we've already got very positive synergy between our dual creative and marketing approaches to client briefs.  Our clients definitely get the best of both worlds – a creative business that can do all the behind the scenes implementation of a project, and a marketing business that can provide exciting and inspiring creative work. And at this particular time, it's great to be part of an established business that has the ambition, hunger and resources to deliver for the future."
Current projects include creating a new website for pharmaceutical giant Alliance Healthcare and developing the branding for Nottingham City Tram Phase 2 franchise bid.  DiVersity has also been shortlisted as finalists in 6 categories of the 2010 RAR Awards, which recognise excellence in marketing companies by asking clients to competitively rate their suppliers on a number of service issues.